Camping is full of fun, things like hiking and sitting around a campfire in the wake to enjoy nature and its isolation. Unfortunately, you're likely to come across a few or many bugs in some cases. Is there a bugproof tent? Yes, Screen tent is a bugproof tent that helps to keep bug out from your tent.
That's where screen tents come to the rescue. Bug free tents are also called screen tents. They're like a shield that keeps the bugs out. But, with so many screen tents out there, how do you pick the perfect one for your camping trip?
Let's explore the world of screen tents and find the best one to keep those bugs at bay on your next adventure. I have spent 93 hours researching the best tents to keep bugs out from camping places.
After extensive research, I Purchased the eight best tents to keep bugs out. I reviewed them according to their material, size, weight, storage, portability, door, wall, floor, and setup time. I hope it will help you make your buying decision.
Comparison Table of the Best Bug Free Tent for Camping 2023
Following is the list of the best tent to keep bugs out.
Best Tents to Keep the Bugs Out Review
1 have listed down several tent options that vary in style, size, and cost, but they all are best screen tent for camping.
No 1. Best Overall: CLAM Quick-Set Escape Shelter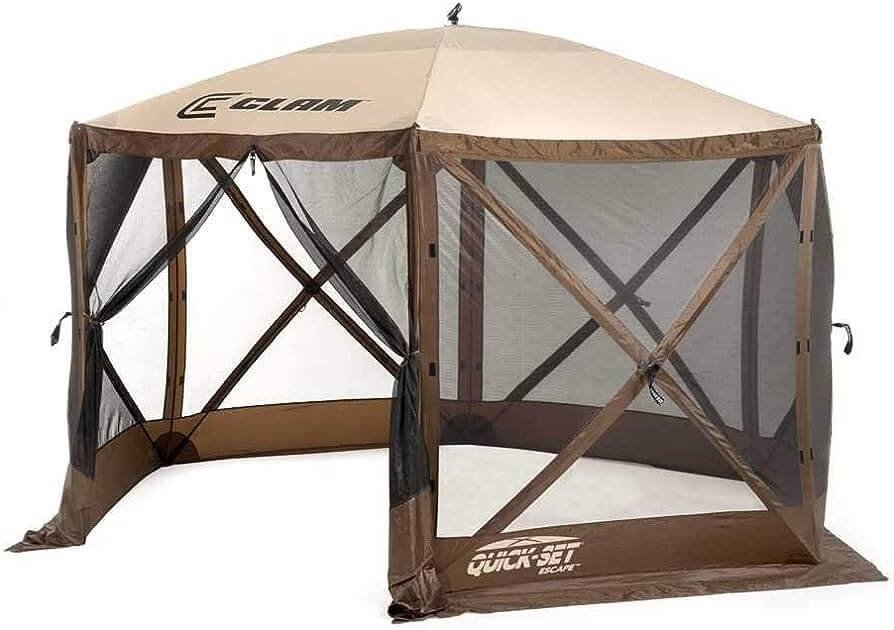 Material: Nylon mesh and Fiberglass
Weight: 34 pounds
Water resistant: Yes
 Setup Time: Less than a minute
CLAM Quick-Set Escape Shelter is an easy-to-setup, spacious, and all-season screen tent. This shelter protects you from rain, sun, wind, and bugs. It is also best for privacy because of the no-see quality mesh walls.
Material
CLAM quick set tent is made up of Denier 210 coated poly oxford fabric, durable, water repellant, and tear and crack resistant material. The tent is designed with a taped roof panel to increase water resistance and top quality no see mesh walls with a wide skirt to keep the bugs out.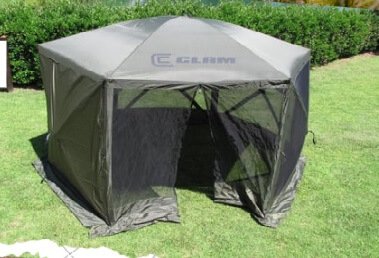 Size & Weight
The inner dimensions are 11.5 ft x 11.5ft x 7.5 ft high at the center and weigh 37 pounds. This tent is vast enough to accommodate up to eight people around a picnic table, but at the same time, it is the second heaviest tent on this list.
Storage & Portability
The tent is a bit heavy to carry, but it is understandable for a tent of this size and its build quality. So, I would say that it's worth the weight and size. The packed size is 8 x 8 x 72 inches which is impressive. Moreover, the oversized carry bag makes packing and moving around much more manageable.
Door, Wall, and Floor
The tent includes a single door and wall panels, but you need to purchase wind panels and a floor tarp as optional items from the CLAMS. I recommend buying the floor tarp for additional ground safety if your goal is to get complete bug protection.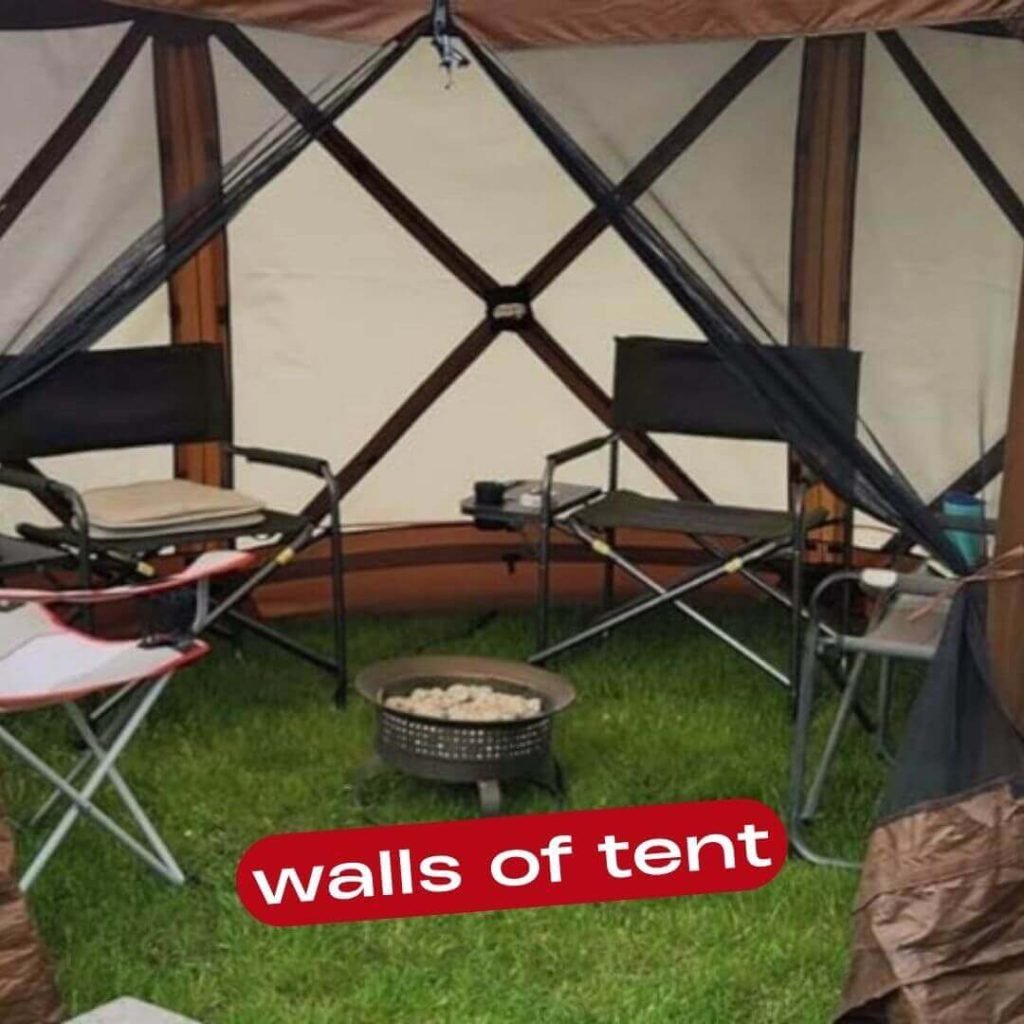 Easy to Set Up
As the name implies, setting up a CLAM quick set camp is a cakewalk. It does not require assembly and takes less than a minute to set up. Easy up, easy down is the feature you can easily count on. Your standard purchase will also include seven mounting stakes and five tie-down ropes.
This escape shelter has the benefit of being an all-weather screen tent. However, it also has the drawback of taking up more storage space and being less portable due to more weight.
In a nutshell, CLAM's quick-set escape shelter will never disappoint you in quality and versatility. But, as this tent costs above average, it should also fit your budget.
Pros
High quality and strong

Water-resistant

Tear and crack-resistant fabric

No-see mesh for privacy

Extra wide skirt around tent perimeter

Quick setup
Cons
Heavyweight

Single door tent
No 2. Best for 4 Person: Coleman Instant Screenhouse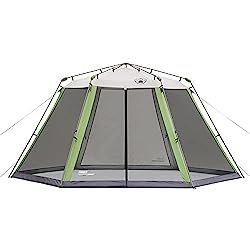 Material:

fabric and an alloy steel

Weight:

18 pounds

Water resistant: yes
 Setup Time:

couple of minutes
Coleman instant screen house is portable, easy to build, and durable. It provides great protection from the sun, wind, and bugs. It is a more cost-effective solution than a Clam escape shelter. But it is not waterproof and will not keep the rain out because of its smaller rooftop and tapered walls.
Material
The tent has a poly guard double thick fabric and an alloy steel frame designed to last for many seasons and withstand heavy winds and extreme conditions. Moreover, the material has a UV 50+ rating, which only allows 1/50th of the solar radiation to pass through, which is excellent in those hot summers.
Size & Weight
It creates a room of 15 x 13 feet with a 7 ft center height. You can set a picnic table inside and have room for six people to sit around but i think it is suitable for 4 person. It is one of the most lightweight shelters and weighs only 18 pounds.
Storage & Portability
The packed size of this tent is 8x8x52 inches and weighs 18 pounds only. So, it is indeed a portable and lightweight shelter. A carry bag is included in the purchase for easy packing and transportation.
Door, Wall, and Floor
The tent includes two spacious doors for easy in and out with zipper-type closure. Screened walls are terrific and create ventilation also, in addition to bug protection. As it is a screen house rather than a sleeping tent, it does not include a floor tarp. You can purchase it separately if you want one.
Easy to Set Up
It took me only a couple of minutes to set up this tent. So I will rate it 5/5 in terms of assembly and disassembly. The assembly instructions are very clear and easy to act.
The Coleman Screen House is among the most lightweight tents with easy in and out. However, it is not recommended to use during the rainy season.
In short, the Coleman screen house will make you comfortable, create ventilation, and has great portability. The good thing is that all of this comes at a reasonable price.
Pros
Built to last long

UV 50+ rating

Can withstand strong winds

Instant set up

Two large doors for easy in and out

Very lightweight
Cons
Not waterproof

Tapered walls reduce available indoor space

Small rooftop
No 3. Best of Family: Coleman Screened Canopy Tent with Instant Setup
Coleman Screened Canopy Tent is an up-level variant of the Coleman screen house discussed above. I added another Coleman to my list as this canopy tent has more room and makes you feel comfortable in any outdoor space. The tent build-up is very sturdy, and the quality is excellent.
Material
The tent is made of poly guard double thick nylon fabric and can be helpful for any event, whether a picnic or a weekend camping trip. It also offers a UPF 50+ rating against sun UV light and shields the occupants from wind and all bugs. Also, the canopy is not waterproof and is not built for heavy rain.
Size & Weight
The inside of this tent measures 12 x 10 feet and costs a little more than the above Coleman's variant. The strength and longevity added to the tent's weight, making it the heaviest tent on my list at 45 pounds.
Storage & Portability
This canopy tent comes with a rolling (wheeled) carry bag, making maneuvering a lot easier, and measures about 48x12x10 inches which are very good for a tent this size. You can adjust the packed item in most of the vehicles. So, in my opinion, storage and portability is not a problem with Coleman Screened Canopy Tent.
Door, Wall, and Floor
The tent has two big doors, one at the front and one in the back, with zipper closure. So, it is an easy in and out tent. Walls are screened for bug prevention and assist air circulation. There is no floor tarp available with this tent model.
Easy to Set Up
There are three main steps to follow while setting up this tent. The assembly instructions are clear, and it took me around 5 minutes to set this up with a helping hand (which is a must). This time can be easily reduced to 2-3 minutes with some practice.
This Coleman variant is a stronger and more spacious option than the previous one. On the other hand, the shortcomings are more weight and not being waterproof.
The Coleman canopy screen house tent is excellent in strength and stability and is made to last. But, it will also cost a bit more than the Coleman Instant Screen House.
Pros
Strong and spacious design

UV 50+ rating

Can withstand extreme conditions

Two spacious doors make in and out easy

Wheeled carry bag
Cons
Heaviest tent on this list

Not waterproof
No 4. Best waterproof: Gazelle Tents Easy Pop-Up Camping Gazebo
Material: polyester having 210D Oxford weave shell
Weight:

39 pounds

Water resistant: yes
 Setup Time:

less than 60 seconds
Gazelle Easy Pop Up Camping Gazebo is a treat for gazebo lovers and offers most of the features you need. The mighty 6-sided gazebo-shaped tent easily accommodates up to 8 persons and a table. It is spacious, waterproof, bugproof, UV and weather-resistant. Wind panels are optional and easy to attach. This tent is an economical alternative to other expensive similar tents.
Material
The tent is constructed with polyester having 210D Oxford weave shell 210 mm waterproof coating. The fabric is UV resistant and heavy-duty to withstand outdoor conditions. The sides are of see-through mesh to enjoy the outdoor beauty. The frame is made of fiberglass, a strong and durable material. You can also purchase side covers if you need privacy.
Size & Weight
The inner dimensions of the tent are 10.5 x 10.5 x 7 feet, and the weight is 39 pounds. So, this gazebo has an average size and weight making it a versatile and commendable tent.
Storage & Portability
This camping tent comes with a good size duffle bag for moving around and measures 8x8x73 inches when packed. The 73 inches length in collapsed form is quite significant, but the reason behind it is the heavy-duty construction of the tent. I managed the required space in my luggage, and you can also do that if you want to enjoy this comfortable and safe tent.
Door, Wall, and Floor
The tent has six sides, giving the feeling of a pleasant and spacious shelter. The walls are made from tight woven mesh to keep even the most minor bugs out. It does not have the floor as most screen rooms do not have. There is one big door entrance in the front with beefy YKK zippers for long-lasting use.
Easy to Set Up
The pop-up camping gazebo features a hub design assembly that erects the tent in seconds. The shelter pops up from the ground in less than 60 seconds and is ready to use. Furthermore, the standard purchase includes 12 all-terrain stakes and five guy lines for a sturdy and safe tent setup.
This camping screen house features economical prices with excellent attributes found only in expensive brands. So, this is a recommended alternative to higher-end equipment. On the other hand, it is heavier and comes with only one entrance door.
The Gazelle pop-up shelter is a great screen shelter to enjoy your outdoor stay and surprises you with its quality and features. You may not want this shelter because of its storage and portability drawback. So, if this is not a problem, try this one for sure.
Pros
Economical alternative to expensive brands

6-sided gazebo style screen house

Lightweight and rust-free fiberglass frame

UV resistant

Weather resistant

Easy setup
Cons
Rank among the heavyweight screen houses

Single door entrance

Measures 6 ft in length collapsed form
No 5. Best for SUV: CLAM Quick-Set Venture Portable Screen Tent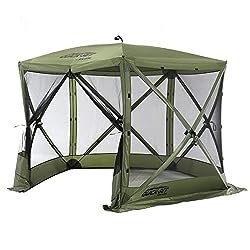 Material:

high-quality fabric

Weight:

29 pounds

Water resistant: Yes
 Setup Time:

less than a minute
Adding another CLAM quick-set screen house to my list is to provide travelers with a CLAM quality shell at a lower price. The CLAM quick set venture is a lightweight 5-sided canopy shelter that lets you enjoy the outdoors, whether rain or sunshine. It provides ultimate protection from all outdoor elements like sun, rain, wind, and bugs.
Material
This screen shelter is made with high-quality fabric, and the roof panel is taped for water resistance to keep you dry in the rainy season. The frame is made of fiberglass, which is strong and rust-free material. There is also a built-in roof flap to divert rain towards wind panels. However, wind panels are to be purchased separately.
The high-quality mesh screen and wide skirt on the bottom keep the flies, mosquitoes, and insects outside so you can enjoy yourself in peace.
Size & Weight
The tent set up dimensions are 9x9x6.8 feet and weigh only 29 pounds. This portable screen tent is excellent in weight and size and can still accommodate up to 6 persons.
Storage & Portability
When this screen tent is packed in the storage bag, it measures 7.5×7.5×62 inches, allowing easy storage and transportation.
Door, Wall, and Floor
These portable shelter walls have high-quality no-see mesh to give you a beautiful blend of safety and privacy at the same time. There is one big door in the front with zipper closure, and the floor tarp is not included in the package.
Easy to Set Up
The quick set venture portable screen is set up in less than a minute. The tent stakes and tie-down ropes are provided to make the shelter tight and secure. Grommets are available in the corner for staking down from inside, and hub pull straps for easy assembly.
This tent is a gift for veteran campers who know the importance of a sturdy, stable, and safe tent, so they don't have to worry about outdoor conditions. The only shortcoming, in my opinion, is the absence of UV-resistant coating.
The CLAM Venture Screen House provides top-quality and secure indoor space, which many economical screen houses do not offer. So, this may be the right choice for you if you are in a group with up to 6 people.
Pros
Economical alternative to CLAM escape shelter

5-sided spacious screen house

Wide skirting at the bottom

High-quality, no-see mesh

Lightweight and rust-free fiberglass frame

Weather resistant

Lightweight shelter
Cons
Single door entrance

No special UV-resistant coating

No-see mesh reduces air crossing
No 6. Best in Quick Setup: Ozark Trail Instant Screenhouse
Material:

polyester mesh and a steel frame

Weight: 20 pounds
Water resistant: yes
 Setup Time: 60 seconds
If you are looking for a budget-friendly screen house with a good sun and bug shield, you can confidently go for the Ozark Trail Instant Screenhouse. This instant setup shelter is surprisingly lightweight, spacious, and offers great ventilation because the screen does not block air crossing.
Material
Ozark instant screen house comprises nice quality polyester mesh and a steel frame. A UV protection of 50 plus rating is offered for complete sun protection.
Size & Weight
This screen house offers ideal weight and size but provides ample space to occupants. It weighs only 20 pounds and measures 10x10x7 feet when set up. You will never feel confined or crowded inside the shelter.
Storage & Portability
The Ozark screen house can be packed easily in the carry bag provided. The item measures only 8x8x39 inches when loaded inside the storage bag, which is fantastic. So, storage and portability will never be an issue for Ozark Trail Instant Screen house.
Door, Wall, and Floor
This portable shelter is a brilliant easy-in and-out tent with two prominent front and back doors having zipper closures. The walls are of breathable mesh to facilitate airflow. No floor tarp is provided like most of the screen houses.
Easy to Set Up
The tent setup is a breeze because the pre-attached steel frame makes assembly easier. It takes only 60 seconds to set up this screen house. The stakes and tie-down ropes are also included making it a ready-to-use shelter.
Ozark Instant Screen House has the clear edge of being a low-cost tent with a UV 50-plus protected interior. However, it may not be the camp gear you want to use on your every outdoor trip and in every weather condition.
In my opinion, this tent is for early campers and less frequent travelers. It will fulfill their needs very well without spending many bucks.
Pros
Budget-friendly screen house

UV 50+ rating protection

Very compact and lightweight when collapsed

Two big doors for the entrance

Breathable mesh screen for ventilation
Cons
Overall low strength and durability

Not waterproof

Not made for harsh environment
No 7. Best in Budget: Wenzel Magnetic Screen House for Camping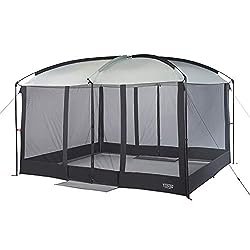 Material: polyester with steel uprights
Weight:

18 pounds

Water resistant: yes
 Setup Time: 60 seconds
Wenzel Magnetic Screen House offers several unique and additional features compared to the above screen houses.
Being the only rectangular tent on this list and among a few very lightweight shelters, it offers unique magnetic doors and a little extra peak height than the previous ones. Another lovely thing about this tent is the economical price with a whopping ten years warranty from the manufacturer, which speaks for the product quality.
Material
The Wenzel magnetic screen house is built from polyester with steel uprights and a fiberglass roof frame. Its 68D Polyester Taffeta tent fabric is great for water protection.
There are also 68D mesh walls for bug protection and enhanced air circulation. The floor mats for the two doors are made up of polyethylene.
Size & Weight
The inside size of the tent is 11 x 9 feet, and the peak height is 7.5 ft. The tent weighs only 18 pounds which is an extraordinary feature. It is also the most spacious and lightweight screened shelter in the given size. The Wenzel screen house provides room for a good-sized campground picnic table and allows easy movement inside the tent.
Storage & Portability
In its storage bag, the packed tent measures only 8.5×8.5×26.5 inches which is incredible for a tent this size. Being one of the most lightweight screen shelters with only 18 pounds, it will relieve you from worrying about storage and portability.
Door, Wall, and Floor
Contrary to being lightweight and roomy, the Wenzel screen house is well designed to provide a relaxed, shady, and bugproof indoor space. The walls are breathable and shield you from all kinds of bugs.
The front and back doors with magnetic strips allow for hands-free entry and exit and automatic closure. It also has two PE entry mats to place at the gates and avoid falling over during entry or exit.
Easy to Set Up
I managed to pitch the tent quickly and easily with the help of one person and following the assembly instructions. The Wenzel magnetic screen house design allows easy placement over a picnic table. The tent comes with pre-attached guy ropes for quick setup and added stability.
The Wenzel Screen House is known for its special features like magnetic doors, ten years warranty, and exceptional portability. Along with these benefits, this lightweight shelter is not designed for high wind or extreme conditions.
Wenzel Magnetic Screen House is another budget-friendly choice with many unique features. But, if you expect high wind or other rough and tough conditions during your trip, choose a more stable and strong shelter from this list.
Pros
Budget-friendly screen house

Waterproof

Magnetic doors

Two big entrance doors

Incredibly lightweight and compact when packed

4-inch flap all around the base to seal off properly

Entry mats for both doors

Ten years manufacturer's warranty
Cons
Un-necessary gap at the bottom of doors

The auto-close function of doors does not work in wind

Being extremely lightweight, it is less stable and strong

UV non-resistant
No 8. Best Lightweight: Alvantor Screen House Camping Tent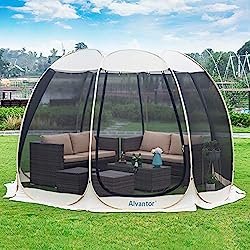 Material: fiberglass, polyester and nylon
Weight:

15 pounds

Water resistant: yes
 Setup Time: 2-5 minutes
The Alvantor Screehouse Camping Tent encompasses an entirely innovative and distinctive design than the previous screen houses on the list. The patented design tent comes in four sizes ranging from a compact 6ft x 6ft to a vast interior of 15ft x 15ft.
This hexagonal-shaped screen room features a breezy, bugproof, and comfortable atmosphere while being the lightest pop-up screen tent, which is excellent. Having these features, the Alvantor Screenhouse is one of the most recommended and best sellers on Amazon.
Material
This camping tent has a fiberglass tent frame to reduce weight. The tent fabric is built from polyester and nylon to make it long-lasting and windproof. The material is not water resistant, but the rooftop provides 50+ rating UV protection all day in the burning sun.
Size & Weight
From the inside, the tent measures 10ft x 10ft x 7ft. The tent weighs only 15 pounds, almost half the weight of similar items of other brands. It can fit 4-6 adults comfortably with patio furniture inside.
Storage & Portability
The tent storage bag is round-shaped with a compact diameter of 39.3''x2.4″, which is great for storage. Moreover, the lightweight offers great portability making it a hard-to-resist travel and camping choice.
Door, Wall, and Floor
The Alvantor camping tent has two big doors with double-sided silicone zippers to open it conveniently inside and outside. But please note that the current version of this tent offers only one entrance door.
There are 6-sided meshed walls to maintain 360-degree ventilation, which is appreciable in hot summers. The tent floor is an optional item and can be supplied on demand.
Easy to Set Up
This screen house is indeed an easy up-and-down tent. The tent pop-ups as soon as it is removed from the storage bag (you might have to be careful for the first time). The fiberglass ribs open up automatically during disassembly, and the unique folding technique is beneficial.
The tent includes12 guylines and 12 mounting stakes. Six elongated sandbags are also provided to strengthen the shelter on windy days.
Alvantor Screen House promises a beautiful design, extremely lightweight, airy, and UV-resistant 50 plus rating. But, a single-door entry can be a real issue for many campers. So, please check if you can get along with this.
I would say that the Alvantor Screen House Camping Tent is hard to resist choice for many campers if you are willing to spend on an expensive piece of gear. Also, it is not obviously the most strong and weather-resistant shelter you can find.
Pros
Unique and eye-catching hexagonal design

UV resistant 50 plus rating

Offers 360-degree view and Ventilation

Two large entrance doors

Very compact size when packed

12 mounting stakes and 12 guylines to increase stability

Six elongated sandbags to add weight in windy conditions
Cons
Not waterproof

Single door entrance

The problem of water accumulation on the rooftop and no drainage option
Real Life Experience of Bug Free Tents from the Fellower Campers
Real-Life Experience of Bug-Free Tents from Fellower Campers.
Dubear Kroening's story about CLAM Quick-Set Escape Shelter: Tent is an exceptional screen tent manufactured from high-quality material. It attached wind and rain flaps for excellent ventilation and protection and large size. However, it is pricey but a good investment for outdoor enthusiasts.
Astill experience with Coleman Instant Screenhouse: The Tent offers spacious shelter and is relatively easy to set up with instructional videos. However, the included instructions may need to be beneficial. It's a good value for its size and quality, but be cautious with the screens to prevent damage.
Robert LaBella's experience with Coleman Screened Canopy Tent with Instant Setup: The Coleman Screen Room is a top-notch shelter known for its user-friendly setup, high winds and rain durability, and adequate insect protection. It's comfortable, spacious, and provides good cover from the elements. Setting it up and taking it down is straightforward, making it a solid choice for outdoor enthusiasts.
How is Bug Proof / Screen Tent Helpful to Keep Bugs Away?
The insect proof, bug free or screen tents have meshed or netted walls that shield you from outdoor elements like bugs and wind and are perfect for camping trips, outdoor events, or family outings.
Many people like to use it as a recreational area free from insects, but it is still breathable and does not make you feel squeezed in. Items like picnic tables and chairs can easily fit inside the spacious interior.
What Are the Benefits of Screen Tents (Bug Proof Tents)?
Suppose you prefer to enjoy your daytime outdoors with the sun above your head. You will indeed look for a tent with fresh and cold air and free from bugs.
Provide more space: High-quality screen tents are easy to set up and provide enough space to move around, dine and relax. The screen tents may protect us against the sun, wind, rain, and even light.
Make your tent a bug-free tent: Staying bug-free is exceptionally important, as different types of bugs can pose severe health risks.
When I say about being bug-free, most people think of mosquitoes and ticks, but there are more fearful insects than just those two. For example, spiders bite. Take a look at what a brown recluse can do to your body. It is nasty.
Also, there are caterpillars out there that can cause serious problems. Some have nasty hairs that can cause an excruciating sting and even send you to the hospital.
Provides you a healthy environment: So, a screened interior will also save you from opening your tent walls and doors, thus offering a very healthy and secure environment.
How to Choose a Suitable Campsite for Your Bugs Proof Tent?
Choosing a suitable campsite when picking the place to set up your tent is of utmost importance. It should be a spot away from standing water and dense vegetation. These are the places where bugs are likely to gather.
Moreover, examine your tent for tears and broken zippers. Repair these to ensure bugs can't slip inside. You are leaving your tent open increases the chance of exposure to bugs. Make sure the door is Zipp shut completely.
Don't store food near your tent. If bugs smell food, it will be hard to get them to leave. So, keep food stored in sealed containers, and don't set up your tent near trash cans. Turn off the lights as some bugs are attracted to the light.
Buying Guide: How to Choose the Best Tents to Keep Bugs Out?
Here are some essential buying factors which one should always look for while buying a screen tent.
1. Material
It is uncommon for ordinary people to opt for a costly and versatile tent like a Badlands 110 Roof Tent that meets all your needs conveniently.
As you may know, there is a big difference between a three-season tent and a four-season tent. Three-season tents are made up of materials suitable to utilize in late spring, summer, and early fall. Material selection also vastly depends on your camping location's environment and climate. Three-season tents are typically cooler and provide better airflow.
Four-season tents are made mainly for those colder, snowy months. They are heavier and made to bear more intense weather, like stronger winds and heavy snow. A three-season tent cannot handle those types of extreme conditions. During the warmer months, you would not prefer a four-season tent because of the extra weight and being warmer than three-season tents.
The typical screen house fabric materials include polyester, tents with a taped rooftop for water resistance, and nylon. Various materials offer different properties, such as being UV resistant, water resistant, and durable. A screen house always comprises meshed walls made up of similar materials.
You will see lightweight fiberglass in superior tents for making enduring and strong tent canopies. The poles and stakes are made from alloy steel with nylon ropes.
2. Weight and size
Weight is not crucial if you are a car camper or even parking right outside your tent. However, suppose you are hiking or moving around frequently to different locations. In that case, every ounce counts because there is a massive difference between one pound, two pounds, and three pounds when you need transportation.
Ultimately, weight and size translate to comfort; the more comfortable, the more fun you will have on your adventure.
The next critical question is, how big of a tent do you need? I like a two-person tent because I can sprawl out. I can also fit my gear inside the tent. I will use a one-person tent if I go for a long trip to get lighter weight. I don't mind carrying additional weight if I need more tent space and to be more comfortable.
Typically, with a single-person tent, you will be limited on space and can put your stuff inside the tent. You need to pick a tent suitable for the conditions you will be experiencing.
3.

Cost
I'll come to the expenses now. People usually do not understand the difference between a three-season and a four-season tent. They don't know why a tent would cost more money. Regarding cost, you must have a budget that makes sense.
If you go out once a year and it's just going to be a couple of miles, you don't need to spend much money. But for me, camping is a meaningful part of my life. So, I have no issue with spending money on a better piece of kit because I will use it frequently.
Typically, you will get a better product when you spend a higher amount. It's going to be lighter weight; it's going to be better materials, more durable, and so on. So, you have to consider what suits you the best. I suggest you get the best quality and spend extra bucks when buying gear.
A good tent will also make you feel safe and secure and offer the necessary protection from the outdoor elements to get you comfortable, enjoy yourself, and have a great time.
4. Storage and portability
The goal is to consider lighter-weight tents, but with the weight loss, there come less durable materials, which you need to be careful about. I have been out often during intense storms and have had tents fail. I have been in those situations, and I tell you that it's not fun. I have had other people have to sleep inside of my tent after they have gotten soaking wet.
So, storage and portability are very significant, but finding a tent that offers good protection and durability would be best. Many cheap and lightweight tents will not handle thunderstorms and stuff like this very well. It doesn't need to shield off a hurricane or anything like that, but it has to be able to offer you storm protection.
5. Set up
Here it would be best if you consider purchasing a freestanding or pop-up tent. It means that you can set up the tent anywhere. All you have to do is throw in the poles and don't need to stake out. A non-freestanding tent needs to be staked out. You will also be unable to pick it up and move or place it over the picnic table.
In my opinion, one is not better than the other it just depends on your needs and where you are going.
6. Design & ventilation
Design and ventilation are something to consider since I had discussed three seasons vs. four seasons tents. Let's go ahead and discuss design elements, like how the poles are inserted through the sleeves or how the netting is hooked on the bars.
There are so many different designs when it comes to tents that it can be overwhelming, so again you need to know what you are looking for and what will suit your needs. Now, camping in the fall and having poles outside your tent can be a real issue for you; if there is rain on that night and the temperatures drop. Your rods will be all frozen, which is a poor design element.
If you have somebody else camping with you inside your shelter, you may want double doors. Right, that way, you are not stepping over each other in the middle of the night when you have to use the bathroom. Also, it would be best if you consider if you can fit your gear inside that tent. Is that a priority for you?
Again, folks, you can see here that there are so many different aspects that you need to consider when buying a tent.
7. Screen house floor or floor tarp
In this topic, I will elaborate on one more aspect: a screen house floor. It is a protective layer that separates your tent from the ground. Now, I'm the kind of person who takes care of my gears, so I want to put down a footprint that way; you don't have to worry about rocks and sticks puncturing the bottom of my tent. You may like this as well. Not everybody carries a floor tarp.
In most cases, your tent's material will be vital. If you do an outstanding job and clean up your tent pitching area, you will be in good shape probably, but again I don't like to take that risk. The fear of crawling insects haunts me constantly. You can also use a thin piece of plastic laid down on the ground instead of a conventional floor tarp and then put the tent on top to have that extra protection.
But do you want to carry the weight of the floor? Does your tent need that additional protection while camping, as you know the conditions? Are you going to be able to clean up everything on the ground so that you have a pleasant and safe place to put your tent? Only you know that and can decide accordingly.
8. Bug-Free Camping Has Never Been Easier:
Indeed, screen houses make bug-free camping a lot easier and universal. You can purchase the tent of your choice from many available options and will indeed find the screen house featuring your preference and style.
But, apart from having a screened tent for your outdoor stay, you may need to do a little more if you want your campsite bug-free. Bring bug spray; you can easily spray yourself. I usually spray at the tent entrance; the only way inside for the bugs is in a screened room.
Whatever you try to keep ants away, the scent will wipe out gradually, and the bugs made to find their path inside. But still, a spray bottle of vinegar, mint, and cedar wood can be handy. Things like moths, spiders, and rodents keep away from the smell of this combination. I don't know if you know, but cedar chips also keep away moths from eating your clothes.
Final Thoughts

: Best Tents to Keep Bug Out
I have discussed every aspect of the best tents to keep bugs out, which will be highly beneficial for you when purchasing your next screen tent. Like I said earlier, if you folks are adventurous like myself, you would want more than one screen house to fulfill your requirements.
I never criticize people regarding price and how much they are willing to spend on gear. Still, some people are eager to go sky-high for a screened shelter, and no one has the right to lecture anybody on their passions on their hobbies. But keep one thing in mind, if you are just getting started with backpacking and are unsure if it is your thing. In this case, buying the most expensive gear out there doesn't make sense. On the contrary, spending a couple of extra bucks on an excellent piece of gear is worth it only if you are a veteran camper.
Frequently Asked Questions: Best Tents to Keep Bug Out
Following are the frequently asked questions about best tents to keep bug out.
1. What color tent attracts bugs?
Answer: Lighter-colored tents attract many types of insects and bugs—however, mosquitos like darker-colored tents.
2. Can bug get through tents?
Answer: These tiny creatures can make their way into your tent. Before entering your tent, check for bugs because pests like ticks can quickly come inside with you.
3. What color do insects not like?
Answer: The bright colors attract bugs and insects like bright white, orange, and yellow colors. However, bugs stay away from medium-intensity colors like green and blue. These colors repel bugs.
4. What smells do bugs hate?
Answer: Before using the spray, try a natural solution to avoid bugs like peppermint. Insects and bugs hate peppermint oil. After using this oil, they will never come into your tent. You can also utilize the smell from the combination of vinegar, mint, and cedar wood.
5. Can you spray insect repellent on a tent?
Answer: Using a natural bug spray or a plant-based insecticide on your tent will help keep bugs away. You can also spray the area near your tent with a mosquito fogger, which kills mosquitoes and other flies on contact and contain repellent properties. My 1st approach involves a product called Permethrin. It is an excellent product that I have used for many years on my gear and clothing and works well. It is also not harmful to most pets or livestock.
About The Author